---
Package Included
Only PCB: 1x 84 PCB (Diodes Resistors Underglow RGB Hot socket presoldered) + Switch puller
Other options have added plate with different material (alu plate is silver as default,if you want black or gray,message us after ordering)
Details
PCB is presoldered with Kailh socket,there is 4 most popular layout for your option.
This PCB is specially led hole size which can use our led sip socket directly without soldering.
Can just plug in and use a tool to press in tightly is ok.However ISO small Shift is not supported.ANSI all keys is supported.After installing this sip socket,you can add 234 or 3mm or 1.8mm led as your wish and it will not affact switch hot plug.
PCB Manuals
QMK  Manuals: drive.google.com/file/d/1115vf8N4E2NMiSnLZkg-oRiilEUqG_GE/view?usp=sharing
VIA Manuals: drive.google.com/file/d/1Wb30VnqHMV0dIVNKqcVWVaVzL5ZZgRxM/view?usp=sharing
The alu plate is CNC anodized with aluminum.Brass plate is pvd brush finished.These PCB plate are all compatible with our 84 case,including acrylic case and CNC aluminum case.
How to install PCB plate kit
1.Install stabilizers to PCB at first
2.Amount around 5-6 switches onto plate corners and middle part totally
3.Amount these switches pin to PCB socket totally.After PCB plate fixed,plug other switches in around 90 degree is ok.When plugging you can put PCB onto desk which can avoid big damage when plugging switches.
4.If there is any big resistance when plugging switches,especially when you use kailh switches,don't put it in forcely.Make sure the switch pin is not bent and the switches is around 90 degree.
5.After plugging switches,if 1 or 2 key not working,check the switch pin whether it's bent at first.Then check whether the back socket is plugged loose.
Even hotswap PCB don't need to solder as normal,however the socket is easily to be plugged loose or off after many times replacing,so if you can prepare a cheap solder iron in hand,1 hotswap PCB can use for many years.We sold many brand hotswap PCB now,these are experience from many customers.
PCB Layout Supported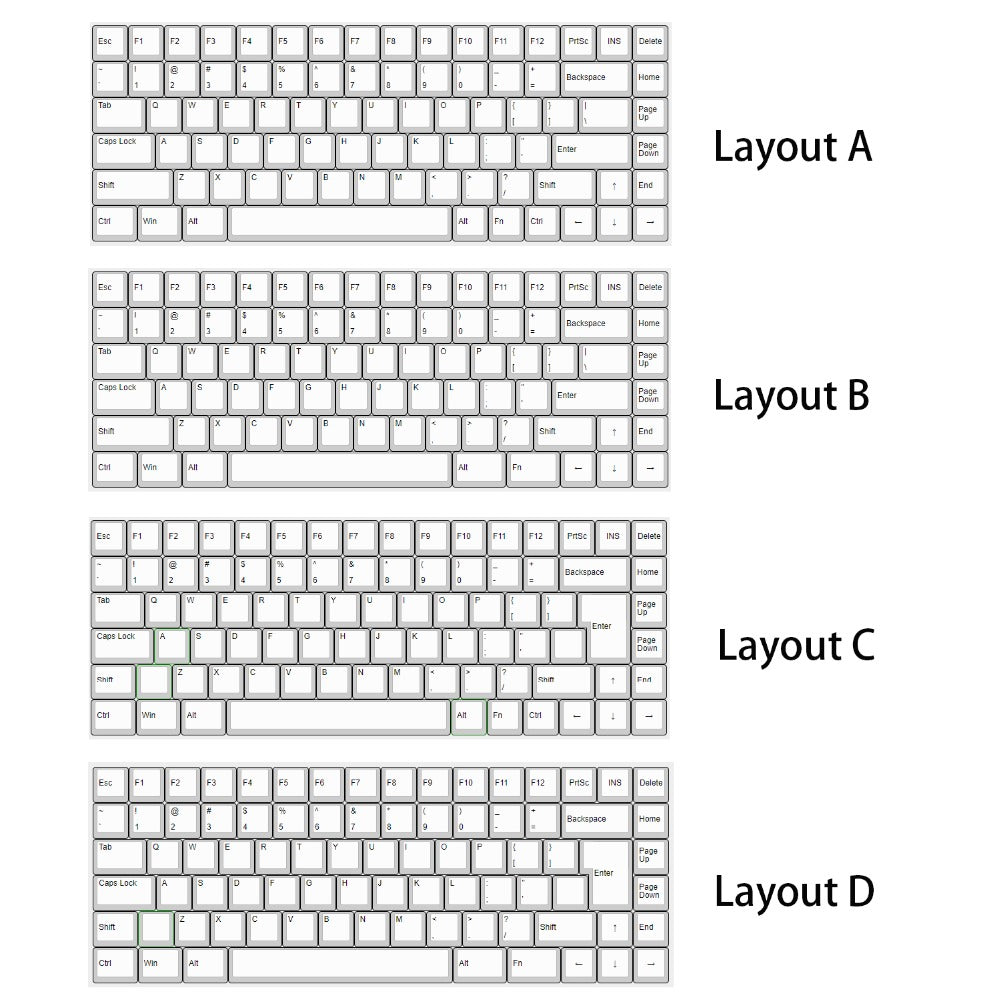 Image Display
PCB
Plate
Note 1
Ymdkey only support paypal now,thanks for understanding.
Note 2
Kindly note all price listed in page don't include destination taxes since every country is different policy.
If you located in EU UK,will charge VAT for orders under Euro150 when checkout since 1,July.
If you order is over Euro150,please pay VAT /customs fee yourself in destination.
For shipping and invoice details,just message us directly is ok.