---
Included Keycaps
61/87/104 Carbon Blank Keycaps Set

+Keycap Puller
Details
104 as the standard full 100% size layout,have many models keyboards in markets.Consider the situation,we list some 104 full 100% size keycaps for it alone.
This set considers OEM profile and carbon theme,and use blank to keep the function that modify other keycpas sets.
PBT material,thickness 1.5mm.

OEM profile is higher than cherry profile,if you use it with cherry profile,please note that.Because handle feels will be so different in this situation.
From R4 to R1(F1 raw-ZXC raw),it is lower with number of reducing.
Note
If your keyboard doesn't use mechanical mx or optical switches,the keycaps will not fit it.
If your keyboard use the low-profile mechanical switches,it will not fit.
Some old Cherry keyboard whose Spacebar Capslock back hole is different is not compatible.Such as Cherry 3000 1800.
Some Costar stabilizer keyboard whose big keys may be stuck for different amoulding.You can adjust the wire or replace the costar inserts in the common market whose amoulding is more popular.If you have met this problem,just leave us message.We will help you solve it.
Size Description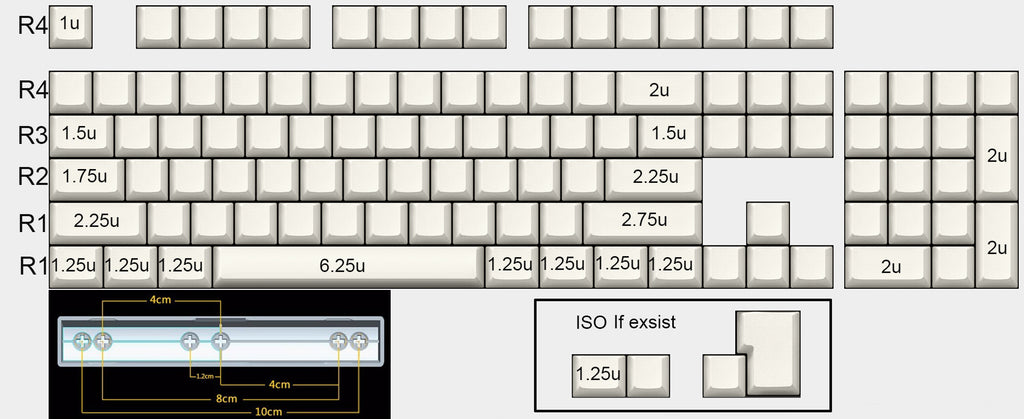 After Service
If some keys missing or broken on the way,just leave us message,we will send you missing or broken ones soon.
Images Display
Note 1
Ymdkey only support paypal now,thanks for understanding.
Note 2
Kindly note all price listed in page don't include destination taxes since every country is different policy.
If you located in EU,will charge VAT for orders under Euro150 when checkout.
If your order is over Euro150,please pay VAT/customs fee yourself in destination.
For shipping and invoice details,just message us directly is ok.
Note 3
We have the installing and software of manuals for Kits or PCBs,please use it with the PCB of model rightly.