---
Package Included
YMD-96 Sandwich Kit:

CNC Case Plate + PCB + PCB Stabilizers+ CNC Aluminum Feets + Screws
Upgraded Parts
Change OEM PCB Stabilizers to Clear Gold screw-in stabilizers, add 10pcs
links
Add Walnut Wrist Click
Here
Details
From 100% to 90%-96 layout,keep some function keys but make the keyboard of size smaller.Create a full integrated keyboard from 100% to the new version-90% special layout.Change the way in keyboard of using totally,96 will be a better layout.
CNC anodized aluminum case with acrylic layer for rgb underglow.
South facing solderin pcb supports many layouts,fit qmk and via together.
Hotswap PCB has two version,V1 south facing or V2 north facing.It is different in some keys of direction,but all fits qmk and via.You can check the link for pcb.
Use the case of top part as the plate for switches of fixing directly,so it is more light for using.
Kit Size: 376*128*13 mm.(Had not added the aluminum feet of height)
Note
If you need add leds yourself,please note that it only supports one color now for backlit.And some keys of places are different in leds of direction for hotswap pcb,like right 1u alt ctrl,left 2.25u shift etc keys.
Soldering PCB supports many layouts,but you need prepare a soldering iron to install switches.
Hotswap needs not soldering for installing.
VIA Manuals
drive.google.com/file/d/18RPcr01UgIxzFhyI94FR7OwCYUdHYH_y/view?usp=sharing   (The keycode for Enter \| need to reversed in soldering pcb)
Layout Supported
Hotswap PCB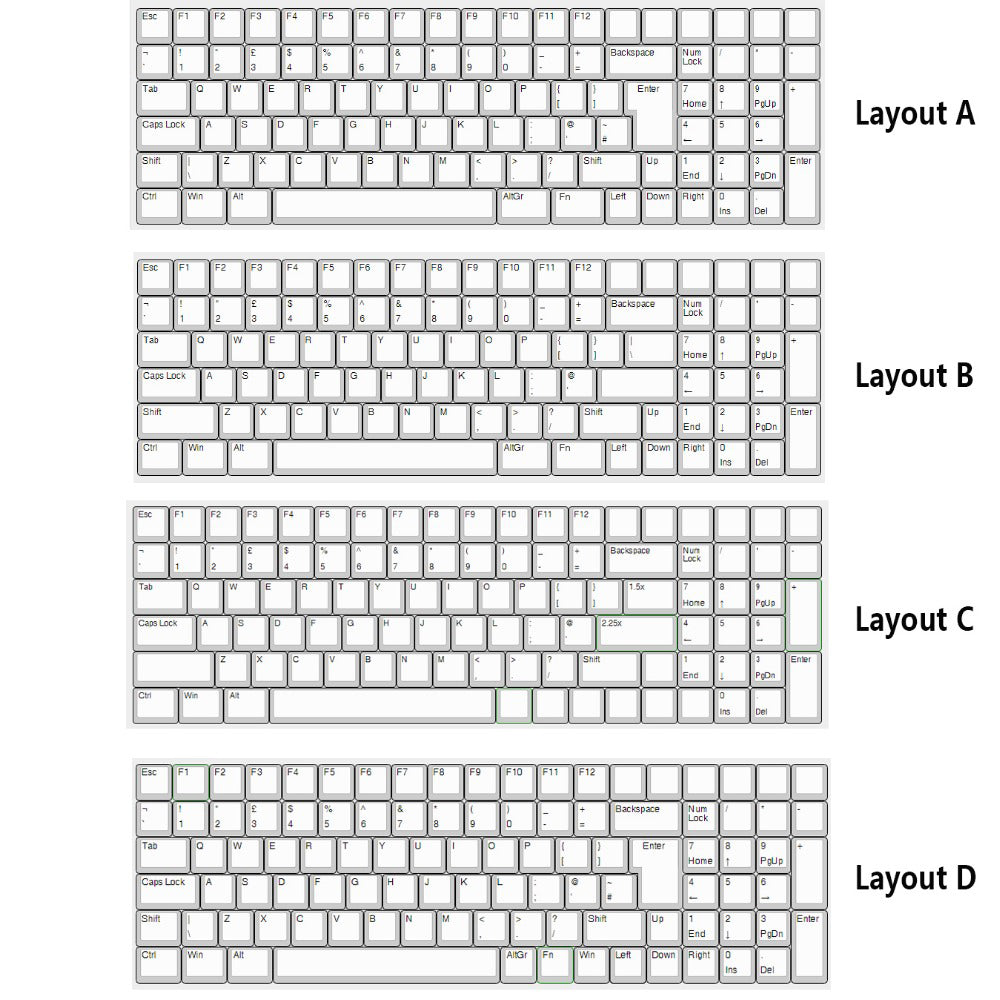 Non Hotswap PCB
Images Display
Kit
Add switches installed
Add Keycaps installed
Note 1
Ymdkey only support paypal now,thanks for understanding.
Note 2
Kindly note all price listed in page don't include destination taxes since every country is different policy.
If you located in EU,will charge VAT for orders under Euro150 when checkout.
If your order is over Euro150,please pay VAT/customs fee yourself in destination.
For shipping and invoice details,just message us directly is ok.
Note 3
We have the installing and software of manuals for Kits or PCBs,please use it with the PCB of model rightly.